See clearly, comfortably, and consistently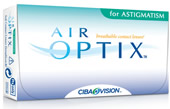 Just because you have astigmatism doesn't mean you can't be comfortable in contact lenses. Introducing AIR OPTIX™ for ASTIGMATISM — a breathable contact lens* that offers excellent comfort and crisp, clear, consistent vision to help satisfy the unmet vision and comfort needs of astigmatic patients.
Made of a revolutionary silicone hydrogel material, AIR OPTIX for ASTIGMATISM offers the highest oxygen transmissibility of any available soft toric lens, so eyes can stay whiter, healthy-looking and comfortable, no matter how long lenses are worn each day.
AIR OPTIX for ASTIGMATISM offers the breakthrough Precision 8|4™ design, which helps minimize the interaction between the lens and the lower lid for excellent comforti. The lenses also feature a patented surface treatment to help resist deposits, which can be a problem for some contact lens wearers, and are easy to handle.
No matter what your day holds, with AIR OPTIX for ASTIGMATISM, you can count on steady vision, high levels of comfort and benefits for the health of your eyes.
AIR OPTIX for ASTIGMATISM lenses are approved for daily wear and up to 6 nights of extended wear, and are recommended for monthly replacement.
Don't settle for less or give up on contacts just because you have astigmatism. Make an appointment today and we'll help determine if AIR OPTIX® for ASTIGMATISM contact lenses are right for you.
What is Astigmatism?
Astigmatism is a vision disorder in which the cornea is irregularly shaped thereby preventing light from being properly focused on the back of the eye.  This results in distortion or blurry vision and may be corrected by eyeglasses or contact lenses.