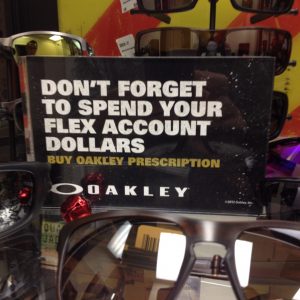 Its that time of the year again, don't forget to use your Flex Spending dollars.  If you participate in a Flexible Spending Account at your job, you know you've gotta use up your funds or lose 'um.  Just a reminder… Flexible spending accounts (FSAs) expire December 31.
FSA dollars are great for:
That second pair of eyeglasses.
Prescription sunglasses that you've always thought about.
Spare contact lenses.
For more information please call 808-949-2662.
HMSA posted this letter on their website acknowledging that some HMSA members personal information may have been compromised in the Anthem Inc. security breach.
Dear HMSA Member,
I'm sure you're aware of the national news story that was reported on February 5 about the cyber attack against Anthem Inc., a Blue Cross and Blue Shield plan that serves residents in 14 states. Attackers accessed names, birthdays, medical IDs, Social Security numbers, street and email addresses, and employment information from millions of current and former Anthem members. No credit card or medical information has been reported stolen at this point in the investigation.
There's a possibility that some HMSA members may be affected. We're working with Anthem and the Blue Cross and Blue Shield Association to identify these members. You could be affected if you've received medical or hospital services in California, Colorado, Connecticut, Georgia, Indiana, Kentucky, Maine, Missouri, Nevada, New Hampshire, New York, Ohio, Virginia, or Wisconsin.
It's possible that not every member who's received services in these states will be affected. Anthem will notify you directly by letter if your data has been accessed. In addition, you can go to AnthemFacts.com for the latest information or call the company's toll-free number at 1 (877) 263-7995.
It's very important to be careful about how you share your personal information. Internet scams have already emerged in the wake of the Anthem cyber-attack. Never give your personal information to anyone you don't trust, particularly if they call or email you.
We know this is causing a great deal of anxiety and are monitoring the situation closely. We'll share updated information as we receive it, so check this webpage regularly.
If you have questions, don't hesitate to call us at (808) 948-6079 on Oahu or 1 (800) 776-4672 toll-free on the Neighbor Islands or the Mainland. TTY users can call 711.Sincerely,Michael A. Gold
President and Chief Executive Officer