We are excited about the launching of Acuvue's newest 1 day disposable contact lens to enhance the beauty of your eyes! 1-DAY ACUVUE® DEFINE® Brand Contact Lenses go beyond colored contacts by boosting your natural eye color and creating an authentic look. Available with correction for near and farsighted prescriptions.
If you would like to enhance your natural radiance with 1-Day Acuvue Define contact lenses, call our office to schedule an appointment.
Brighten your eyes with expressive Natural Sparkle
Highlight and sharpen your eyes with distinctive Natural Shimmer
Enlarge and contrast your eyes with striking Natural Shine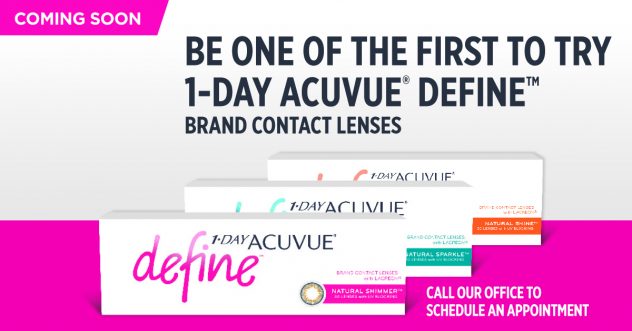 DAILIES® AquaComfort Plus™ is a daily disposable contact lens that refreshes everytime you blink. And, it's the latest advancement in comfort technology.
DAILIES AquaComfort Plus is a lens you only wear once; put them on in the morning and throw them away at night. Triple Action Moisture lets you enjoy sustained comfort throughout the day. They're designed to work with your eye's natural blinking action−about 14,000 times a day. You only wear them once and throw them away at night, so you don't have to worry about deposit buildup over time and there's absolutely no messy lens cleaning and disinfecting required or reusable lens case to keep track of.
DAILIES AquaComfort Plus is convenient. There is no replacement schedule to memorize. Just put in a fresh, new pair every morning, and throw them away at night. Make an appointment today and we'll help determine if DAILIES AquaComfort Plus is right for you.