Tag:
Colored Contact Lenses

We are excited about the launching of Acuvue's newest 1 day disposable contact lens to enhance the beauty of your eyes! 1-DAY ACUVUE® DEFINE® Brand Contact Lenses go beyond colored contacts by boosting your natural eye color and creating an authentic look. Available with correction for near and farsighted prescriptions.
If you would like to enhance your natural radiance with 1-Day Acuvue Define contact lenses, call our office to schedule an appointment.
Brighten your eyes with expressive Natural Sparkle
Highlight and sharpen your eyes with distinctive Natural Shimmer
Enlarge and contrast your eyes with striking Natural Shine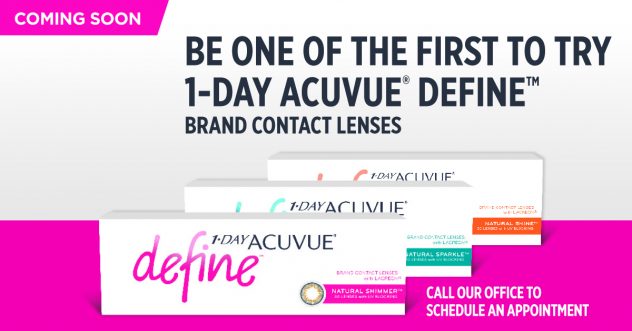 Your eyes can be your most spectacular accessory!
What's the first feature you notice when you meet someone new? Their Smile? Their Hair? Their Eyes? So many of our patients have shared their experience of what wearing contacts lenses means to them. Some wear clear, some wear color contacts lenses, many have Both!
A little color. A big change. Your eyes can be your most spectacular accessory! With FreshLook® Color Contact Lenses, you can choose from a wide range of shades that blend beautifully with the natural color of your eyes. These lenses use a patented 3-in-1 color technology that allows the beauty of your natural eye color to blend with the shade you select for a natural look.
Want to change, enhance or illuminate your eye color? For dark eyes or light eyes, even if your vision is perfect or you have astigmatism, we have the lenses for you.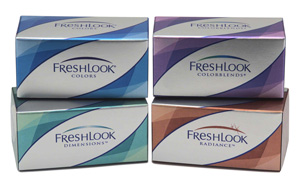 FreshLook ColorBlends® – Change
For a subtle change and a beautiful look. Three-in-one technology blends three colors into one. Also available for astigmatism.
FreshLook® ONE-DAY
Make an impression, not a commitment with new FreshLook ONE-DAY color contact lenses. Pick one gorgeous look today, and a whole new one tomorrow. The colors change, but the results are the same – stunning.