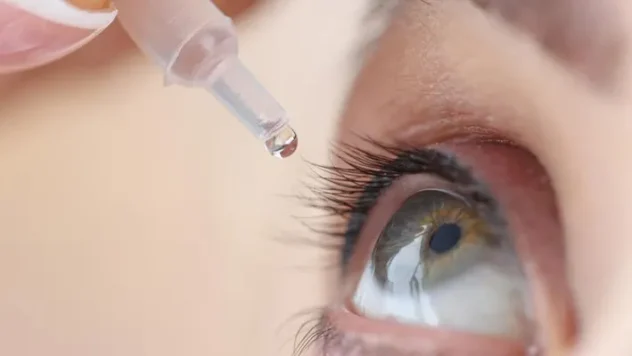 The FDA has issued a warning to consumers to immediately stop the purchase and use of 27 over-the-counter (OTC) eye drop products due to a potential risk for eye infection.
Anyone who owns the recalled eye drops should follow the FDA's guidelines for throwing the products away, which may involve taking them to a drug take-back site.
Here is the list of all 27 eye drops that are on the warning list.
CVS Health
Lubricant Eye Drops 15 ml (single pack)

Active Ingredient: Carboxymethylcellulose Sodium Eye Drops 0.5%

Lubricant Eye Drops 15 ml (twin pack)

Active Ingredient: Carboxymethylcellulose Sodium Eye Drops 0.5%

Lubricant Gel Drops 15 ml (single pack)

Active Ingredient: Carboxymethylcellulose Sodium Eye Drops 1%

Lubricant Gel Drops 15 ml (twin pack)

Active Ingredient: Carboxymethylcellulose Sodium Eye Drops 1%

Multi-Action Relief Drops 15 ml

Active Ingredients: Polyvinyl Alcohol 0.5%, Povidone 0.6%, & Tetrahydrozoline Hydrochloride 0.05% Eye Drops

Lubricating Gel drops 10 ml

Active Ingredients: Polyethylene Glycol 400 0.4% & Propylene Glycol 0.3% Eye Drops

Lubricant Eye Drops 10 ml (single pack)

Active Ingredient: Propylene Glycol Eye Drops 0.6%

Lubricant Eye Drops 10 ml (twin pack)

Active Ingredient: Propylene Glycol Eye Drops 0.6%

Mild Moderate Lubricating Eye Drops 15 ml (single pack)

Active Ingredient: Polyethylene Glycol 400 Eye Drop '0.25%
Rugby (Cardinal Health)
Lubricating Tears Eye Drops 15 ml

Active Ingredients: Hypromellose 2910-0.3% & Dextran 70- 0.1% Eye Drops

Polyvinyl Alcohol 1.4% Lubricating Eye Drops 15 ml

Active Ingredient: Polyvinyl Alcohol Eye Drops 1.4%
Leader (Cardinal Health)
Dry Eye Relief 10 ml

Active Ingredients: Polyethylene Glycol 400 0.4% & Propylene Glycol 0.3% Eye Drops

Lubricant Eye Drops 15 ml (single pack)

Active Ingredient: Carboxymethylcellulose Sodium Eye Drops 0.5%

Lubricant Eye Drops 15 ml (twin pack)

Active Ingredient: Carboxymethylcellulose Sodium Eye Drops 0.5%

Dry Eye Relief 15 ml

Active Ingredient: Carboxymethylcellulose Sodium Eye Drops 1%

Eye Irritation Relief 15 ml

Active Ingredients: Polyvinyl Alcohol 0.5%, Povidone 0.6%, & Tetrahydrozoline Hydrochloride 0.05% Eye Drops
Rite Aid
Lubricant Eye Drops 15 ml (twin pack)

Active Ingredient: Carboxymethylcellulose Sodium Eye Drops 0.5%

Lubricant Eye Drops 10 ml (twin pack)

Active Ingredient: Propylene Glycol Eye Drops 0.6%

Gentle Lubricant Gel Eye Drops 15 ml

Active Ingredients: Hypromellose 0.3%, Glycerin 0.2%, and Dextran 70 0.1% Eye Drops

Lubricant Gel Drops 15 ml

Active Ingredient: Carboxymethylcellulose Sodium Eye Drops 1%

Lubricating Gel Drops 10 ml

Active Ingredients: Polyethylene Glycol 400 0.4% & Propylene Glycol 0.3% Eye Drops

Multi-Action Relief Drops 15 ml

Active Ingredients: Polyvinyl Alcohol 0.5%, Povidone 0.6%, & Tetrahydrozoline Hydrochloride 0.05% Eye Drops
Target
Up&Up Dry Eye Relief Lubricant Eye Drops 30 ml

Active Ingredients: Polyethylene Glycol 400 0.4% & Propylene Glycol 0.3% Eye Drops

Up&Up Extreme Relief Dry Eye 15 ml (single pack)

Active Ingredients: Polyethylene Glycol 400 0.4% & Propylene Glycol 0.3% Eye Drops

Up&Up Extreme Relief Dry Eye 30 ml (twin pack)

Active Ingredient: Carboxymethylcellulose Sodium Eye Drops 0.5%
Velocity Pharma LLC
Lubricant Eye Drop 10 ml (triple pack)

Active Ingredient: Propylene Glycol Eye Drops 0.6%
Walmart
Equate Hydration PF Lubricant Eye Drop 10 ml

Active Ingredients: Polyethylene Glycol 400 0.4% & Propylene Glycol 0.3% Eye Drops